RFID is an automatic recognition technology that reads and writes RFID tag (IC tag) information by non-contact wireless communication using radio waves. UHF band RFID (RAIN RFID) does not require you to search for and read tags one by one, and you can read a large number of tags at once by simply holding the scanner from 5 to 10 m away. Reduces inventory time to 1 to 2%.
RFID tags can be used at low cost because they do not require batteries, and the price of cheap RFID tags has dropped to 1 to 5 yen per sheet.It is rapidly becoming widespread in order to improve work efficiency against the backdrop of labor shortages, and in 10, more than 2017 billion tags were shipped worldwide.If you want to know more,"What is RFID? Explain the latest trends and application examples!"to see the available categories of products and services.
You can read multiple tags at once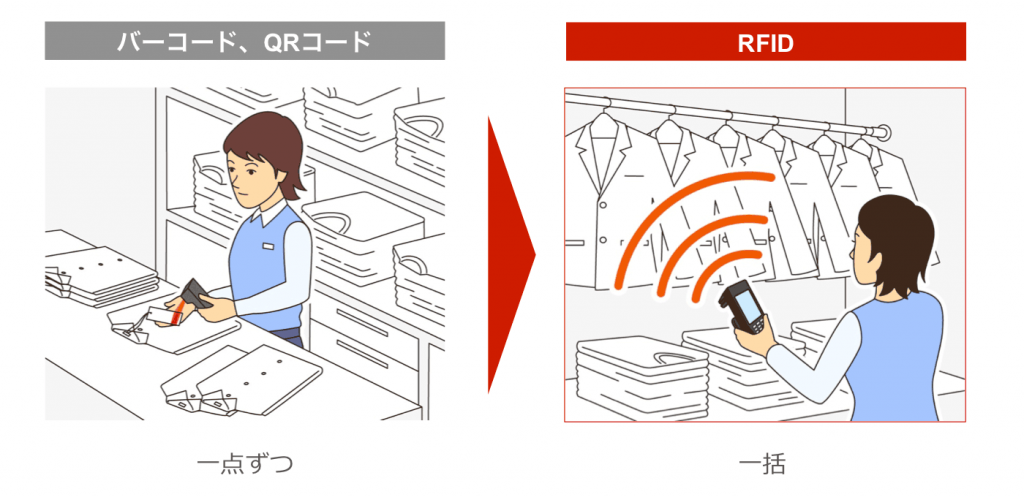 Can be read from a distance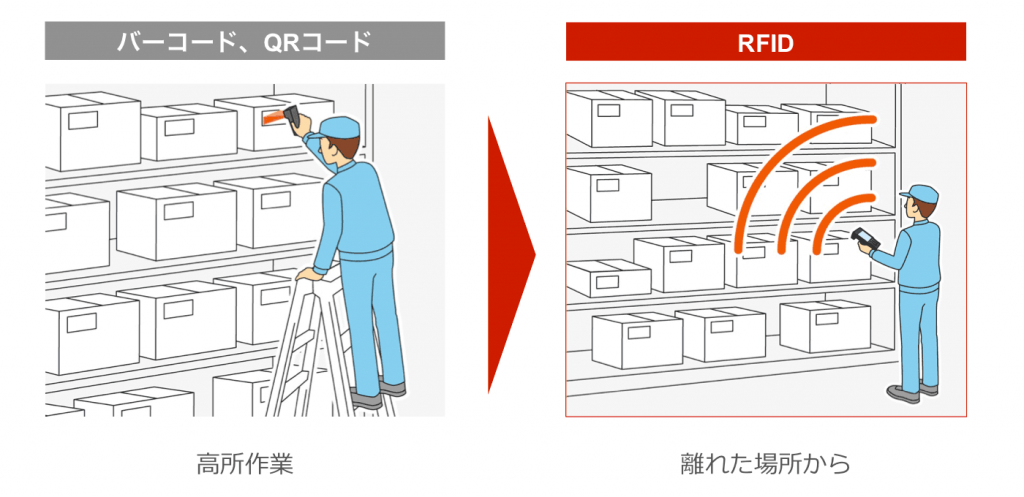 You can read the inside of the box while it is closed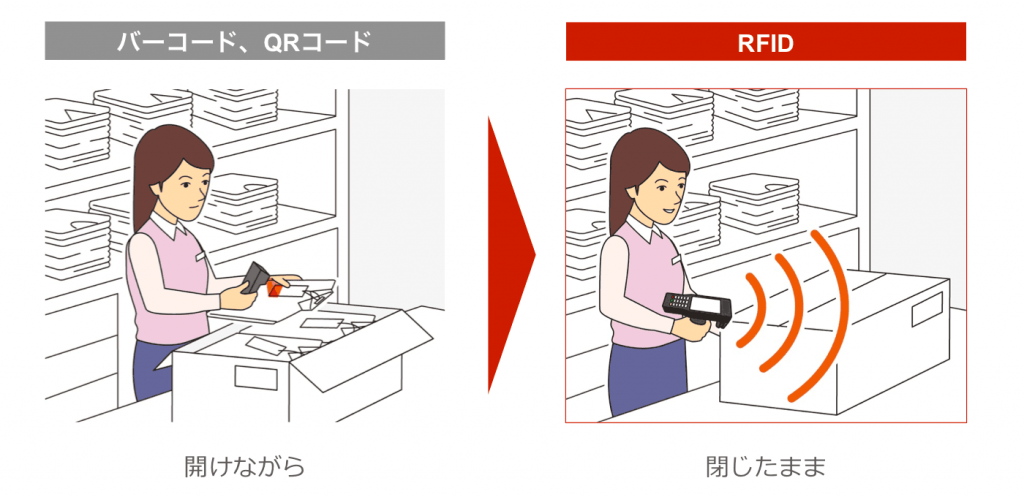 Highly accurate RFID tag positioning by radio wave phase analysis
RFID is a convenient technology that can read a large number of tags at once, but it has not been possible to identify the position of tags read remotely.However, our patented technology in Japan, the United States, and Europe, called radio wave phase analysis, has made it possible to pinpoint the position of inventory and goods with RFID tags attached with high accuracy.
By using the response radio wave phase information detected at 400 times or more per second, accurate position information can be obtained without being affected by tag sensitivity and reflection compared to the conventional method using signal strength.
Due to the declining working population due to the aging of the population, labor shortages have become a serious issue in the field.Even if we can secure manpower, the increase in labor costs has a great impact on business performance, and automation and labor saving at the site are showing great interest as future efforts.It is important to reduce unproductive time such as inventory and goods management and concentrate on the work that creates added value.
Attaching an expensive IoT sensor with a battery to each inventory / article was not realistic from the viewpoint of cost and battery replacement, and the information on things at the site was unclear and management was inefficient.But,By utilizing our technology, it has become possible to manage the location of individual items using inexpensive RFID tags that cost 1 to 5 yen each.
thisAs a result, location management including search as well as receipt / shipment / inventory will be overwhelmingly streamlined, and in-stores will be able to carry out innovative marketing utilizing location information of products / inventory.Please refer to the service page and case studies for specific usage examples.