This page will guide you through the web browser screen.By looking at this page
How to log in with a web browser
Please access the URL provided by the RF Lucas representative.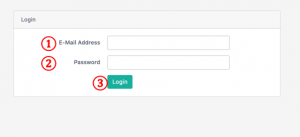 Enter your ID and Password information in ① and ②.
Click ③ to log in.
Each item on each screen and their detailed contents
We will introduce each item using the inventory screen as an example.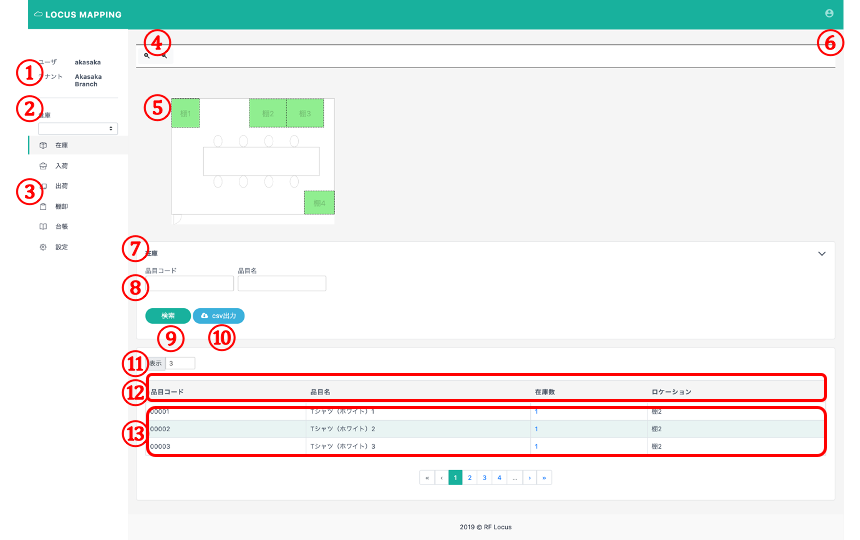 ① User, tenant name
The user name and tenant name are displayed.
② Warehouse name
Displays the warehouse name.You can select the registered warehouse from the pull-down menu.
③ Each function
You can transition to each function such as arrival, shipment, inventory, etc.
④ Map enlargement / reduction button
You can enlarge or reduce the map of ⑤.Press and hold to zoom in / out continuously.
⑤ Map
It is a map registered in "Ledger".
⑥ Log out
You can log out of the current user.
⑦ Function name
Displays the currently displayed function name.
⑧ Search window
You can search for products by specified conditions.It is customizable.
⑨ Search button
Search is performed under the conditions set in ⑧.
⑩ CSV file output
You can output the product list data displayed in ⑬ in CSV file format.
⑪ Number of items displayed
You can specify the number of products to be displayed at one time with ⑬.
⑫ Display items
Product information.It is customizable.
⑬ Product information
Product information.